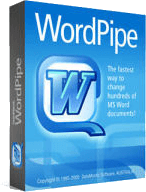 Microsoft Word (2016, 360, 2013, 2010, 2007, 2003, XP)
Microsoft® Windows® 10, 8, 7, Vista®, 2016/2012/2008/2003 Server, XP x32 and x64
WordPipe Engine - Component to Perform Search/Replace across Word Documents.
-- Nightmare-Free --
Dealing with Word documents programmatically is a nightmare. And it only gets worse the more you deal with them.
Help Is At Hand
Take advantage of out 15 years dealing with every different type of Word Document, and save yourself from a world of pain - guaranteed.
Multi-threaded
Multi-document
Server or workstation-based