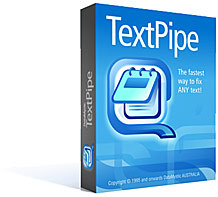 Winner of the International SIA Best Application award
TextPipe Pro is superb at converting multi-Gigabyte mainframe files.
Convert EBCDIC files to ASCII CSV, Tab- or Pipe-delimited or fixed width format
Convert Packed, Zoned and Binary fields, including Unisys Packed Decimal Unzoned/Packed-No-Zone (PNZ) with padding fields etc, with our Mainframe Copybook Filter. Just paste your copybook and begin converting!
Expand binary word and double word data (from Big Endian or Little Endian formats)
Convert NULL and blank numerics
Convert REDEFINES and OCCURS fields, with nested OCCURS and OCCURS DEPENDING ON
Convert huge multi-Gigabyte files
Handles multiple record types in the same file, even records of different length (variable length)
and more
Our end-user support is second-to-none. Click here to Download a FREE 30-Day Trial!