PowerPointPipe Replace for PowerPoint migrate Microsoft PowerPoint hyperlinks when you rename file servers, translates files by applying massive search/replace lists, and finds and replaces your organization's name, address, website etc across thousands of presentations - automatically.

PowerPointPipe is designed as a hands-off tool requiring next to no user intervention, as you would expect for migrating large numbers of files. It copes with a myriad range of Microsoft PowerPoint bugs, such as restarting Microsoft PowerPoint every 1000 presentations to avoid memory errors. It also copes with the largest variety of problem presentations of any tool, ranging from password protected and corrupted presentations to SharePoint locked presentations.

We also offer consulting to organizations with very large document sets, or those needing technical assistance.

To use PowerPointPipe, you simply add a list of search/replace pairs, and for each one, specify where in the presentation it should be found. Then you tell it which files to process - that's it!
Use it for...
Standardizing corporate name changes such as your organization's phone number, address, web site or CEO
Performing server consolidations where document links need updating
Migration of documents when a server is renamed or replaced and all PowerPoint presentation links need updating
Updating documents to use Microsoft Namespace Server mappings
Changing part numbers or SKUs across multiple files
Translating documents
Detecting which Microsoft PowerPoint presentations are password-protected (specify a blank password - these appear on the errors tab)
and much more. See our new Timing calculator
User benefits
Fast!
No limit on the number of presentations processed - use it across an entire file server or web server
Translators can import search/replace lists from Excel, CSV- or Tab-delimited files
Easy to use with integrated online help
Supports the same search and replace options as Microsoft PowerPoint, plus more
Stand-alone - doesn't integrate directly with PowerPoint so it doesn't destabilize your installation
Update documents to use Microsoft Namespace Server mappings
Hyperlink report/pre-migration analysis can identify the existing links and what they would be changed to (complete report in full version only)
Lite version works with documents located on the local system. Pro version works with documents locally, on File Servers or NAS, Novell cluster volumes etc.
Retains Last Access dates for data retention policy compliance
Translations are available for other languages
Features
Disables PowerPoint's Update Links dialog for completely automatic processing
New! Find and replace inside the Slide Master (per Slide), Master Slide (per presentation), Notes Master, Title Master and Handout Master
New! Search and replace inside OLE Link paths e.g. to embedded Excel worksheets
Search and replace inside slide notes
Search and replace with all PowerPoint's options such as Match Case, Match Whole Word etc, plus more
Files can be specified by folder (optionally including sub folders), by importing from a list file, or by pasting in a list of filenames
Search and replace inside Code Modules - even if protected
Search and replace inside hyperlink addresses
Search and replace inside shapes, text boxes and tables
Search and replace inside built in document properties and custom properties such as Title, Subject, Author, Company etc
Search and replace inside headers and footers
Fully Unicode compliant - search and replace international character sets (unlike competing products)
Allows replacements to be longer than 255 characters (Microsoft PowerPoint limits this to 255)
Works with Windows SharePoint Services document libraries, Office 365 / Network Storage
Control the presentation types used - so you can process any custom presentation type
Can be automated or scheduled via the command line, and settings are saved in an easy-to-edit or generate XML format
Read only documents can be processed or skipped
Easy to install/uninstall
The original file date and time stamp can be preserved.
Does not alter documents unless a change is made. In Search Only mode, no changes are made.
All settings can be saved and re-loaded later, allowing you to manage multiple jobs.
Full backup facility, and the ability to rollback if the results are not acceptable.
Full audit trail on completion, logging the changed documents, unchanged documents and error documents.
Beware of cheap imitations.
Microsoft SharePoint Services / Office 365 / Network Storage
Yes! PowerPointPipe now talks directly to SharePoint sites.
Consulting
We recently helped a customer migrate 198,000 Word, Excel and PowerPoint documents to Office 2007 format, then convert from UK English to US English. This used a search/replace list of 1,750 terms, and used our Search and Replace Server Bundle on a high-end Amazon EC2 Windows 2012 instance. Our consulting team monitored the process from start to finish.
Screen shot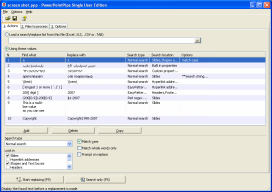 PowerPointPipe's default screen (Click for more)
Download evaluation

Tour
(requires Flash)
Buy
Lite Edition US$ 49.95*, Full Edition US$ 299*, Full vs Lite comparison chart.
Technical specifications
Microsoft® Windows® 8 and x64, Windows 7 and x64, Vista®, Vista 64, 2012/2008/2003 Server, XP
All versions of Microsoft PowerPoint (2013, 2010, 2007, 2003, XP) or Microsoft Office (2013, 2010, 2007, 2003, XP), but not PowerPoint Starter Edition (which is a cut-down version with zero integration capability)
Hard Disk with 2 MB free disk space
32 MB RAM
Multi-user, Site and Enterprise licenses are also available to enhance the efficiency of your entire team.
Awards
See also