When a Mainframe EBCDIC copybook consists of multiple records, you need to separate them out into a general structure, with each record type going to a new file for clarity and ease of loading/processing.
Mainframe EBCDIC copybook filter design pattern
With TextPipe (download), the steps are
Use a pattern match to identify each record type we have in the file – using the record header
Pass this record header with its associated data to a subfilter
The subfilter handles just that record type, and puts each record type in a new file.
In our file, each record starts with a 3 byte field which we will ignore, followed by a 5 letter record type id, #REC#, #TRAA, #TRAD etc. There is also a field following this record id, but we don't need it, and the value might not always be 'N'. Note: Often, the record type field's VALUES are not included in the copybook, but has to be read from the comments or documentation. In these cases the record type field usually has a constant name like REC-ID.
Sample Mainframe Cooybook
05 T-REC.
10 T-REC-LEN PIC S9(4) COMP VALUE 68.
10 T-REC-ID PIC X(5) VALUE '#REC#'.
10 T-REC-STAT PIC X VALUE 'N'.
...


05 T-TRAA.
10 T-TRAA-LEN PIC S9(4) COMP VALUE 69.
10 T-TRAA-ID PIC X(5) VALUE '#TRAA'.
10 T-TRAA-STAT PIC X VALUE 'N'.
...

05 T-TRAC.
10 T-TRAC-LEN PIC S9(4) COMP VALUE 68.
10 T-TRAC-ID PIC X(5) VALUE '#TRAC'.
10 T-TRAC-STAT PIC X VALUE 'N'.
...

05 T-TRAD.
10 T-TRAD-LEN PIC S9(4) COMP VALUE 199.
10 T-TRAD-ID PIC X(5) VALUE '#TRAD'.
10 T-TRAD-STAT PIC X VALUE 'N'.
...
Records
The general TextPipe pattern for each record type within the file looks like this:

Let's dig into this.
The first step is an EasyPattern (a user-friendly type of pattern match). It looks for
The start of the text, followed by
Any 3 characters (the PIC S9(4) COMP field we are ignoring), followed by
the EBCDIC characters #TRTS. (Remembering that PC's use ASCII, we need to specify the literal is EBCDIC), followed by
65 other characters – the rest of the record
When something matches this pattern, it must be a record of type #TRTS, and it gets passed unchanged to the subfilter:
The Mainframe Copybook filter applies just the copybook segment that relates to the #TRTS record
The result goes to the file TRTS-records.txt on your desktop
The text is then prevented from continuing in the filter – it stops dead here.
Pro Tip: We can easily copy this structure by selecting the top filter, and choosing the [x2] button in the footer.
Working out the copybook size
When we paste each copybook fragment into a mainframe copybook filter, we can click the [Show Parse Tree] button to find out the record length. e.g.
-01 COPYBOOK 1-73 Length:73
05 T-TRAA 1-73 Length:73
10 T-TRAA-LEN S9(4) COMP-3. 1-3 Length:3
10 T-TRAA-ID X(5). 4-8 Length:5
10 T-TRAA-STAT X(1). 9 Length:1
10 T-TRAA-COMPL X(1). 10 Length:1
10 T-TRAA-COM S9(4) COMP-3. 11-13 Length:3
10 T-TRAA-DATA 14-73 Length:60
…
Once we know the length is 73, we just subtract 8 from it, (the first 3 characters followed by the 5 character record type = 8) to find out the remaining characters we need, in this case, 65:
[ TextStart, 3 chars, EBCDIC('#TRAA'), 65 chars ]
We also have to grab the record type TRAA from the copybook and put it into the pattern match, and also into the output filename.
%USERPROFILE%\Desktop\TRAA-Records.txt
Then we move onto the next record type.
Master record match
Once we have setup all the record types, we need to gather ALL the record patterns into one MASTER pattern match at the top of the list.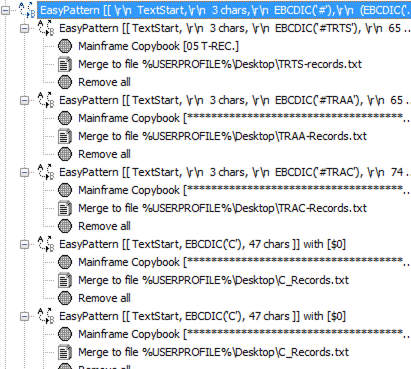 The master copybook pattern match looks like this:
[
TextStart,
3 chars,
EBCDIC('#'),
(EBCDIC('TRTS'), 65 chars)
or
(EBCDIC('TRAA'), 65 chars)
or

..one line for each record type..

(EBCDIC('TRTS'), 29 chars)

]
Ready to Rock 'n' Roll!
Then you're ready to drag and drop your mainframe file into TextPipe and click [Go] or press [F9]!
Errors?
If the error log reports that there were extra bytes in the file that could not be matched, this indicates that
the pattern matches are incorrect
the copybooks are incorrect
the settings used by the mainframe copybook filter are wrong. Try experimenting with the settings 'Assume adjacent COMP fields are overlapped' and 'Allow COMP-3 to be unsigned' of the most common or initial record type. Unfortunately the copybook does not tell us how exactly the data has been stored.
the original data or original copybook is wrong
the original data might have been converted to ASCII when it was transferred off the mainframe, and this is the most common problem we see. This leads to corrupted packed decimal values, so always ensure that the file you receive is FTPed off the mainframe in binary mode.
May the force be with you!