Search and Replace for Excel takes ALL the hard work out of replacing text across multiple Microsoft? Excel? spreadsheets. Just imagine - next time your organization changes its phone number, address, web site or CEO - just run Search and Replace for Excel across your file server or website to fix all affected spreadsheets in one hit. Translators can use Search and Replace for Excel's grid to define multiple search/replace pairs.
- as recommended by Microsoft!
[ user benefits ]
Fast!
No limit on the number of spreadsheets processed - use it across an entire file server or web server
Translators can import search/replace lists from Excel, CSV- or Tab-delimited files
Easy to use with integrated online help
Supports the same search and replace options as Microsoft Excel, plus more
Stand-alone - doesn't integrate directly with Excel so it doesn't destabilize your installation
Translations are available for other languages
[ features ]
NEW! Unicode search and replace
NEW! Search-Only mode
Search and replace with all Excel's options such as Match Case, Whole Cell/Partial Cell etc, plus more.
Handles any number of sub folders
Search and replace inside hyperlink addresses
Search and replace UNC link paths
Search and replace inside shapes
NEW! Search and replace inside built in document properties and custom properties such as Title, Subject, Author, Company etc
NEW! Search and replace inside headers and footers
Control the spreadsheet types used - so you can process .xls, or any custom spreadsheet type
Can be automated via the command line
Handles password-protected spreadsheets - these get flagged for manual follow-up
Easy to install/uninstall
The original file date and time stamp can be preserved.
[ screen shot ]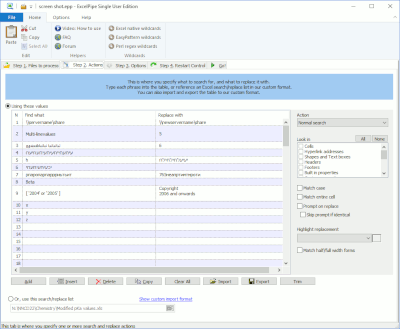 Default screen (Click to enlarge)
[ technical specifications ]
Microsoft® Windows® 10, 8, 7, Vista®, 2019/2016/2012/2008/2003, XP x32 and x64
Microsoft Excel Office 365, 2019, 2016, 2013, 2010, 2007 or Microsoft Office Office 365, 2019, 2016, 2013, 2010, 2007 (not Excel 97)
Hard Disk with 2 MB free disk space
32 MB RAM
Multi-user, Site and Enterprise licenses are also available to enhance the efficiency of your entire team.

Note: Under Excel 97 and earlier, the Search Inside Hyperlink Addresses feature does not work because in these versions of Excel the hyperlink address is read-only, not read/write as in later versions. Excel 98 and onwards all work properly. Note that this does not affect the ability of Search and Replace for Excel to search and replace the hyperlink displayed text - which is quite different to the actual hyperlink address.


[ buy ]

Buy Lite Edition $99, Full Edition $499
[ download evaluation ]
[ awards ]
See also