Directory Sizes
Its uses include:
Finding space hogs on a network
Finding multiple copies of a single application on a server
Finding which directories could be archived to save space (typically those that contain lots of small files)
Finding where most of the disk space is used
Finding applications to remove before installing a new one
Previewing the benefits of a smaller cluster size
Generating daily, weekly or monthly reports showing how the disk space distribution has changed. You can easily generate html, tab- or comma-delimited output to feed directly into your favorite spreadsheet for further analysis
Showing you the complete directory tree
On large hard disks up to 1/4 of the total drive space is wasted! DirSize will show you where.
DirSize includes both a 32-bit version and a 16-bit version for backward compatibility. The 32-bit version of DirSize runs under Microsoft® Windows® 10, 8, 7, Vista®, 2019/2016/2012/2008/2003 Server, XP x32 and x64. The 16 bit version of DirSize runs under DOS, Windows 3.x, 95, 98, ME, NT, 2000 and XP, but does not show long filenames.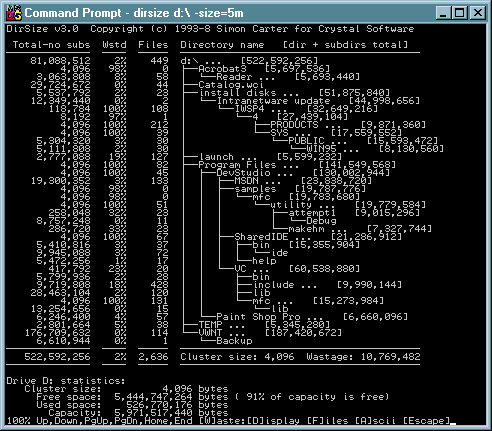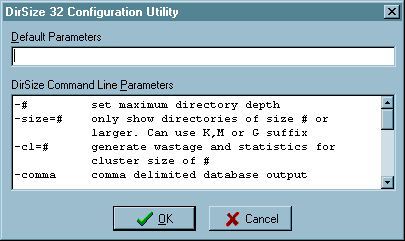 User Benefits
New! DirSize can now ignore the sizes of offline files.
The directory tree can be limited to just those branches showing more than a specified amount e.g. 20 MB. This is very useful to find out who is hogging space on a network.
Displays Windows 95 long filenames.
Uses international thousands separator based on country information.
For the drive, displays cluster size, free space, used space and capacity.
For each directory shown, displays total space used, wasted space (either as a percentage or as an actual value) and directory name. If the directory has sub-directories, it also shows the combined total -this is very useful for finding the complete size of applications before deletion or backup.
For the files examined, displays total used space, total wasted space and the cluster size used (the user can specify a size other than the drives actual cluster size so that they can see how much space would be wasted under a different configuration).
Rounds up file sizes to the cluster size AND includes the size of each directory for the most accurate size information.
Fully scrollable output (both up and down).
Comma-delimited and tab-delimited output formats for easy importing into databases, spreadsheets or word processors.
Future proof - directory sizes up to 99 GB are catered for.
Output can be redirected to a file or to the printer.
The characters used to draw the directory tree can be changed from DOS extended ASCII characters to standard ASCII characters.
The statistics can be disabled to show just a directory tree.
Directory sorting can be disabled. This is useful for comparing DirSize's output with an unsorted DIR output.
Continuous progress indicator while accumulating file information.
Feedback
I've just started to use [DirSize] at home. I found the wasted space info particularly useful.
I've just had a look at DirSize; very cute indeed!
I've just downloaded dirsiz24.zip from Garbo, and it's a gem
Thanks, pretty handy product you have here!
Thanks, seems like a cool program!
...just tried it and she works beautifully!
I just tried out your utility DIRSIZE and am very impressed with it.
Thanks for use of dirsize... been very helpful for personal use. Being able to see "wasted space" is a useful addition. The bigger drives get, the more we waste.
thank you for developing a fine product. it is very useful to me to maintain order on my hard drive. I basically use your program in a Win95 DOS box to write a text file for each of my 6 drives and then I print it out. Then I can see what is taking up valuable space.
Just fired up a copy of your DIRSIZE utility - very nice.
I found your utility DIRSIZE 2.5 on a CD-Rom and find it very very very useful !!!
Thanks for your useful and elegant program.
The database export option works great. Thanks for adding it.
It is a fine utility and I have admired each improvement.
I obtained a copy of your nifty program from a friend, after he gave me a demonstration.
I just was tired of waiting for Norton Commander to calculate the Size of a big Subdir of a CDROM. About 2000+ Files took more than 5 Minutes. So I had a quick look at a SIMTEL Mirror and found DIRSIZE v2.5. I was impressed how fast it worked, even on my 1.6G Hard disk.
(many more)
Customers
Active ISP - NO
AEA Technology Engineering SW - AB, CA
ARCO Chemical Company - TX 77573, US
Auburn Univ-ACES - AL, USA
Audits & Surveys Inc - NY 10011, US
Becton Dickinson & Company - NJ, USA
Biz-Tech Associates - VA, USA
Blackwells UK Ltd - UNITED KINGDOM
Buck Consultants Ltd. - ON, CA
COBE BCT, Inc - CO, US
cocreate - CO, US
Comics Informationssysteme - 76227, Germany
Cowtown Net - TX 76140, US
Cox Communications - AZ, US
Data Union, Inc. - SC, US
Ebron Power Ops Ltd - SW1P 3ET, United Kingdom
ECN2001 - WA, USA
Empire Financial Group - Ontario, CA
Gap.inc - CA, USA
GlobalMedia.com - BC, CA
Hewlett Packard de Mexico, S.A. de C.V. - MX
Hub Distributing, Inc. - CA, US
Indian Motorcycle - CA, US
Insynq - WA, USA
MCFE BV - NETHERLANDS
Microsoft Corp - CA 94043, US
Monitor Company - MA 02140, US
Morse Group - Surrey, GB
Novartis - NJ, US
Oregon Shakespeare Festival - OR, USA
Oxfam - Oxon, GB
PlantijnCasparie Direct Mail - NETHERLANDS
PricewaterhouseCoopers - Ontario, CA
SANG SIAM ELECTRIC (1977) - THAILAND
Signal Iduna Gruppe - GERMANY
SPM - FRANCE
STAS nv - BELGIUM
Tetra Pak Hoyer - DK-8270, Denmark
The Gilmore Company - SC, USA
Uni-information Co. - Ibaraki-ken, JP
Versus Informatique inc. - QC, CANADA
Volante Integrated Technology - Vic, Australia
Westvaco Envelope Division - MA, US
Youngs Computer Helper - PA, USA