Set DOS Directory Dates
DirDate is a command line tool that can easily be automated to change folder and file last modification date, creation date or last access date. It can change dates using either a reference file (where you can 'lift' the date from an existing file), the EXIF Date Taken date from your photos, the current date/time or a series of YEAR, MONTH, DAY, HOUR, MIN, SEC and MSEC commands. It can process files in subfolders, and it has a preview mode so that you can see which files will be modified. You can set file date and times right down to the 0.1 microseconds (100 nanosecond increments), or even tweak existing times up and down.
Use it to:
Reset create dates that get corrupted by Mac clients during DFS/RFS replication
Simple example - set all file creation dates to Christmas day:
dirdate CREATION= date=12/25/2000 time=12:00:00 *.*
Simple example 2 - add 10 minutes to file modification dates:
dirdate MODIFIED= MINUTES=+10 *.*
Simple example 3 - reset folder dates to the date of the oldest file (e.g. after you copy photos to a new computer)
dirdate -r -diroldest "c:\My Documents\My Pictures"
Simple example 4 - copy file creation dates from one set of folders to another:
dirdate.exe -report -r CREATION= *.* > report.bat

Then just copy report.bat to the new folder and run it!
Example 5 - extract EXIF date taken and apply it to the file, and add a DST offset
dirdate.exe CREATION= MODIFIED= EXIF hour=+1 c:\aemail\*.jpg
Very complex example - use the following DOS .BAT command (this will NOT work from the command line) to alter the creation date of all .WAV files on drive X: to the creation date of a correspondingly-named .WMA reference file.
FOR %%A IN (x:\*.wav) DO dirdate CREATION= "filec=x:\%%~nA.WMA" "x:\%%~nA.wav"
This example (again, only works in a batch file) sets the creation date (CREATION) to the modified date of the reference file (FILE=)
FOR /R %%A IN (*.*) DO dirdate CREATION= file="%%A" "%A"
DirDate runs under Microsoft® Windows® 10, 8, 7, Vista®, 2019/2016/2012/2008/2003 Server, XP x32 and x64. DirDate also comes with a 16-bit version for DOS and Windows 3.1, which can be used to change folder, volume label and file entry dates, file sizes and attributes under Windows 3.1 and DOS using direct disk writes, and it is the only application that can change DOS folder dates using direct disk writes.
Robocopy didn't copy the MODIFIED dates ?
If you use RoboCopy, DirDate can be used to restore the original file created and last modified dates from RoboCopy's default date of '02.01.1980'.
In the source folder, run:
dirdate.exe -report -r MODIFIED= *.* > report.bat
Then just copy report.bat to the new folder and run it!
Screen shot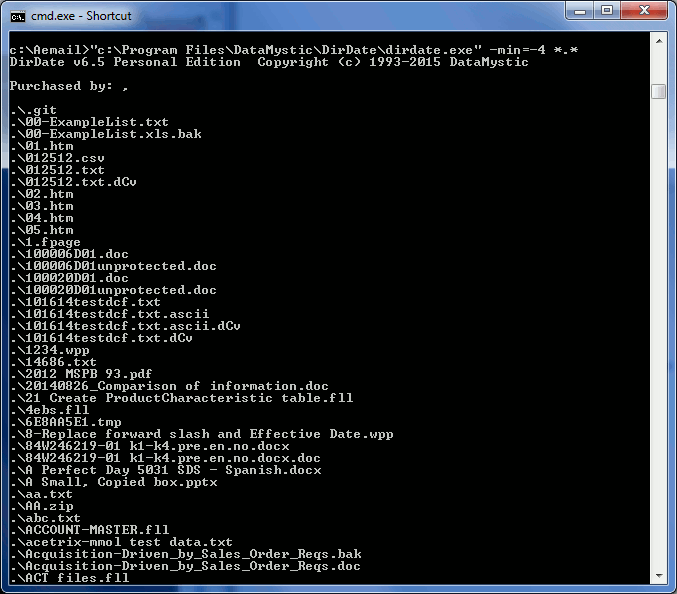 Features
Can easily be automated to run as part of an unattended process.
Supports recursion into subdirectories.
Can change the last modification date, creation date or last access date of BOTH files AND folders/directories
Supports wildcards.
Supports extraction of EXIF Date Taken to apply to the create, modified and/or accessed date
Can use a reference file's time and date.
Can set to current date and time.
Fast! Change 1,000,000 files / 43,000 folders / 273 GB in 17 minutes!
Can change any part of the date or time without affecting the other parts.
Now can change dates of file reparse points (symlinks)
Now handles DST transitions.
Has a preview mode where no changes are actually made.
Notes
According to the Microsoft website, NTFS delays updates to the last access time for a file by up to one hour after the last access. Also note that right-clicking the file in Explorer counts as an access. To see the genuine last access time, use
Feedback
We installed a new server today, and I was able to fix the last modified date on 30,000+ server folders before everyone starts work tomorrow (it's still Sunday night here in California...) - Dave Campbell
Basically IT'S GREAT! All my wishes come true! Amazing!
DIRDATE is sure a NEAT program! I am so happy to have it!
Boy - I can't begin to tell you how happy I am to have DirDate! I'm one of those unfortunate people who really like my file dates to *mean* something (ergo: another reason to dislike Unix, which can't even keep the same date when it copies a file). It has been a VERY long-standing irritation that when you install a program the directories all get the current date - even if the program itself is years old. Now I can fix that - and I've been happily doing so!
I had been looking for this kind of utility for months (I am a software reviewer--published in BYTE--and a multimedia consultant for Microsoft, among other places), and I am delighted you did this.
Was looking for a version of TOUCH that would allows modifying directories, and I came across your DIRDATE
DirDate is exactly what I've been looking for for ages!!
I have been looking for a way to change dos-directory-attributes for some time. Now I found your interesting program...
I downloaded your directory date program a few days ago. I'd been looking for such a program for a while. I'm using a dos/w3.1 operating system, with 4dos. I'm quite happy to relay the news it worked perfectly for me. For me, there's nothing to compare to a small, good program that does exactly what it should with out a ton of useless bells and whistles. The price was good too! Hope to see more of your work in the future.