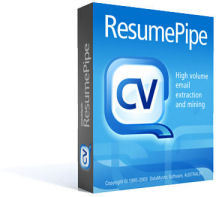 ResumePipe Resume Block (total number of emails able to be processed)

Resume Volume
Cost per Resume
Cost
Note: You can choose any quantity you like from 500+
1,000
$0.25
$250
2,000
$0.22
$440
5,000
$0.19
$950
10,000
$0.16
$1600
20,000
$0.13
$2600
50,000
$0.10
$5000
100,000
$0.07
$7000
200,000
$0.05
$10000
500,000
$0.04
$20000
Note:
ResumePipe Subscription Model is a local installation - it may be installed on as many computers as you wish, both workstation and server class
An Internet connection is required while you process resumes
A block of resumes will EXPIRE if not used within 1 year of the purchase date. Our system guarantees to always used the oldest block
We provide an additional 10% FREE to allow for filter testing, processing re-runs and to cover your own internal purchasing delays (e.g. 20,000 actually gives you 22,000)
Our system will email your purchasing officer AND warn the current user when the remaining volume falls below the 10%, 5%, 2% and 0% levels
This price includes TextPipe Pro. Because ResumePipe can be installed on as many machines as you like, TextPipe has been restricted to only work with ResumePipe, and hence is called TextPipe for ResumePipe.