Advanced PC Menu

Download
Owner's Manual
Arc is a full-featured menu system that can be used to run all of your favorite programs. It looks very slick, uses no memory and is network-compatible. It runs under DOS, Windows 3.x, 95 and NT, and supports long filenames.
It caters for all levels of users by being very easy to setup, use and modify. Advanced users like its rich command structure and unrestrictive design, while beginners like its apparent simplicity and attractive windowed presentation.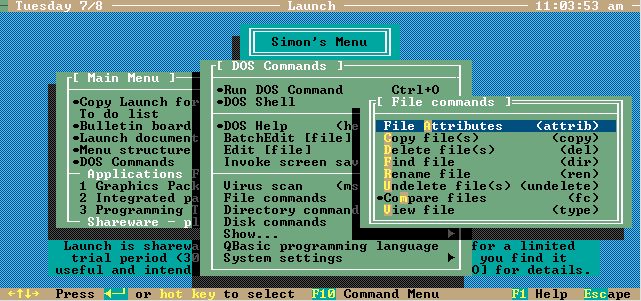 Features
Uses no memory to run commands. This makes it perfect for Networks where low RAM is at a premium. It can also be used to load and unload TSRs. It is also great as a menu system for CD-ROMs, because it is fast and slick.
Immediate access to all of your commands. Hot keys (single key presses) allow quick access within a single window, while shortcuts (key combinations) allow instant access to far reaches of the menu, and to items not in the current window. Every item can have a shortcut and multiple hot keys.
Network & multi-user. Support includes Novell, LANtastic and Banyan Vines. Arc uses file locking to prevent conflicts.
Security. Access to DOS and to editing can be restricted. You can also prevent users from changing their passwords, color schemes and preferences.

Authority levels provide a passive system that requires no interaction from the user after login. The user cannot even see or modify any items with a higher authority than their own.
Passwords provide an active system that requires intervention from the user. All passwords are comprehensively encrypted.

AutoBuild makes adding new programs as easy as point-and- click. However, if you want to get your hands dirty, Arc allows a batch file of up to 64K for each menu item.
Auto installation detects ALL programs and adds them to the menu. It can classify over 360 programs.
Context-sensitive system help (over 80 pages) with index.
User-defined help can be added to each menu item, edited and updated on the fly. Up to 64K can be defined per menu item.
Full point-and-click mouse support.
Attractive user interface which is extensively customizable. Separate color configuration and settings are maintained for each user. The color palette can be edited, so with EGA you can choose 16 of 256 colors, or on VGA, 16 of 262,144 colors.
Usage tracking. Maintains a chronological record of who ran what and when. Successful logins, failed logins, logins where the user was logged in automatically, applications run etc.
User accounts. Use our Add_user utility to automatically add new user accounts to Arc based on a no-privilege template as users log in!
You can convert the entire menu structure to text format, edit it using your favorite editor (e.g. search/replace drive letters) and import it back in again. Also useful for revision control. Can also generate a structure tree (like a directory tree) for documentation purposes.
No limit on the number of items per menu or on the menu depth, the menu resizes and scrolls as required. Separate structure files can be linked together (either always or only when accessed), and up to 100 may be stored in each directory. Links are great for creating common menus.
Reset recovery. If the PC loses power, is turned off or rebooted, Arc can re-run the program that was running. This is great for BBS, fax machines etc that have to remain on all the time.
Can have items that don't return to Arc after running. Very useful for logout options on a network.
Can have items pause after running - to show you the output.
Items can prompt for log comments before running. Very useful for keeping track of billing information.
Prompt the user for input with Edit fields (with history lists), radio buttons, check boxes, command buttons. Extensive on- line documentation for errors that can occur while interpreting these commands.
Environment variables can be edited. E.g. PATH, TEMP and PROMPT etc can all be edited.
Built-in screen saver. You can also use your own screen saver, disk unfragment program, tape backup, virus scan etc.
Supports every text mode. EGA/VGA 43/50 line 80/132 column modes - you name it, Arc will use it!
SBRK.EXE - a program to disable (totally) [Ctrl+C] and [Ctrl+Break].
LUSERS.EXE - a program to limit the number of users using a limited licensed product.
REBOOT.EXE - a program to perform a warm or cold start.
System Requirements
IBM PC/XT, PC/AT, PS/2 and compatibles
160K available RAM (non memory resident while in applications)
MS-DOS/PC-DOS 3.0 or higher
Hard disk or file server with 300K bytes free.
Supports Microsoft, Logitech and compatible mice
Supports CGA, EGA, MCGA, VGA graphics; color or monochrome monitors
Includes 5.25" and 3.5" disks and a 90 page, comprehensive, professionally bound manual.
If you're worried about whether your PC can run Arc, don't. There is no PC that can't run Arc.
Feedback
Have tried the Launch program out and found it to perfect for what I want (yes, there are a few DOS users still out here!). I reckon Microsoft saw this program, and it gave them the idea for Windows!!! Its great to use a program that is so reliable!
...your program is superior to what I thought was the best menuing program on the market, HDM v4.55 or Hard Disk Menu v4.55). I would appreciate any feedback from you and continue improving on a wonderful product
The service you provide is exemplary. Don't be surprised if one of your future customers mentions my name as the source of information about this program
Arc arrived yesterday and I am setting it up. Every thing seems to be perfect. Thanks again for your prompt response and service. If I don't get back to you again, count on another very satisfied & loyal customer.
We are currently looking for a program that offers greater local hard drive security due to the upsurge of student hard drive mischief. Your software caught my eye
I am currently trying out your Arc program and I like it a lot.
We are looking for a menu system for our workstations and laptops. We downloaded a copy of your Arc program from the Sydney PC User Group BBS and have found it to do what we want of a menu program (plus some more).
Thanks very much for your prompt response to my query about Arc, which is now up and running very nicely. Thanks also for producing an excellent, and useful, DOS program!
Awards


Byte-Flow.com, Jun 2005

Soft-Checker.com, Jun 2005

CriticalFiles.com, Jul 2005

FileEdge.com, Jul 2005

Download