The Quick CD
Buy
Download
ZeroIn speeds up your command prompt by replacing the CD command.
You can quickly change between long name directories because ZeroIn allows you to abbreviate and miss-spell their names. It tracks recently visited directories to make re-visiting them very easy. It also keeps a list of user-defined aliases, so that a short alias like 'sys' maps to 'c:\windowsNT\system32' e.g.
User Types ...
ZeroIn changes to...

c \w\sys

Gives choice of:

c:\windowsNT\system
c:\windowsNT\system32

c c:\w\d

Changes from any drive to

c:\windowsNT\Downloaded Program Files

c .  or
c ..

Moves up one directory level (to parent directory)

c ...

Moves up two directory levels

c ....

Moves up three directory levels (and so on)

c \  or
c /

Moves to root directory - Unix forward slashes (/) are equally valid

c d:\p\*

Gives choice of all second level directories on drive d: where the parent directory starts with the letter 'p'
---
ZeroIn includes both a 32-bit version and a 16-bit version for backward compatibility. The 32-bit version of ZeroIn runs under Microsoft® Windows® 10, 8, 7, Vista®, 2016/2012/2008/2003 Server, XP x32 and x64. The 16 bit version of ZeroIn runs under DOS, Windows 3.x, 95, 98, ME, NT, 2000 and XP, but does not show long filenames.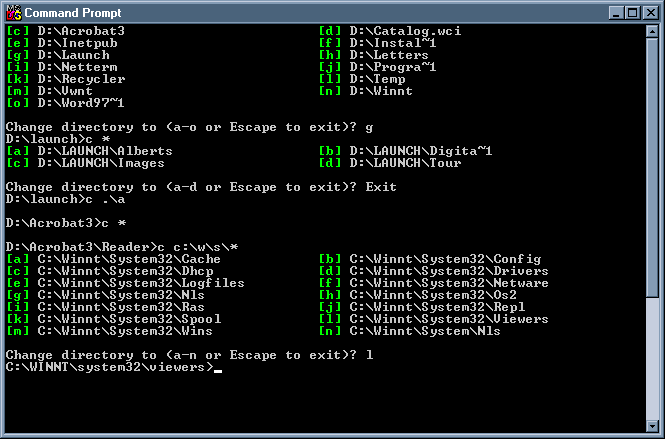 (Click to enlarge)
Hint
ZeroIn will NOT work if you run it under Windows 2000 or Windows XP's command.com. It must be run under cmd.exe. To check which variant of the shell you use, right click your MS-DOS Prompt icon, select Properties, then Program. Verify the Cmd Line is set to C:\WINDOWS\system32\cmd.exe or similar. The reason for this is that command.com does not allow a program to change the directory.
Features
Sophisticated matching engine allows you to abbreviate directory names and even type them incorrectly - eg "\WINODWS" will find "\WINDOWS".
Eliminate the tedium of typing Windows 95 long filenames (which it supports fully).
History list of your 20 most recently visited directories. You can re-visit the previous directory or any recent directory very easily.
Up to 20 aliases that map names you supply to your most commonly used directories.
If there are no matches ZeroIn can create the directory for you. It will supply a list of the best partial matches so far.
Environment variable that specifies where the history and alias information is kept. This is very useful for networks that use a shared executable.
Supports wildcard matching. * is ALWAYS added so W -> W*.*
If there is more than one match you can choose from a list, which can be pages long. If necessary, very long directory names are folded with \...\ characters to fit on to the screen.
Common abbreviations: . -> .. Save typing going up one level ... -> ..\.. Save typing going up two levels .... -> ..\..\.. Save typing going up three levels etc " " -> \ Space saves finding that (back)slash key \\ -> \*\ Saves hitting [Shift+8]
Doesn't care if you use Unix '/' or DOS '\'.
Network compatible.
You can change drives at the same time.
Does NOT use index files of any sort, so...

you don't have index files cluttering your hard disk
you don't have to periodically update the index
you aren't restricted to creating, renaming, moving or removing directories using just one program AND
it works for floppies, CD-ROMS, Zip/IOMega drives and other removable media.

Perform multilevel matches eg \*\doc finds all second level doc directories.
Adapts to your screen mode - 25/43/50 lines.
Sets error level if no directory found.
Feedback
I've just grabbed your most excellent directory changer from garbo
I've just downloaded ZeroIn from a shareware library, and I think it's great...I've only had it for a few days and I've already forgotten all the contracted long file names that I had to use in DOS on a Windows95 machine.
Neat little program. Thanks.
Thanks for creating the very useful cd replacement ZeroIn.
A very useful program!
Downloaded your "c" directory changer program from the windows95.com site and thoroughly saw the advantages of program.
Very helpful indeed. I used to hate DOS because my typing was so lousy I had to type almost every command and directory name more than once. :-)
I get your little program that change dir really fast!!
Nice job you did, I might throw away one of my favorite tools. (Mine doesn't accept Windows'95 long names)...I find your program excellent
I just downloaded your zero in software and it's really cool.
Thanks for making a great keystroke saver !
I must say that your program is pretty cool. I use DOS windows a lot and your product really helps with long file names (especially with spaces)