$side_links = ob_get_contents(); ob_end_clean(); include_once 'end_sidebar3.php'; ?>
Backup long filenames
Buy
Download
The cost, time and effort of replacing your old software with new software that supports long filenames just isn't worth it. Often replacement software is not available. Now you don't have to replace it! With LFNit's help, you can retain long filename support even while using your:
old tape backup software (eg Colorado)
old file transfer program (eg LapLink)
old file manager (eg Xtree Gold)
old disk utility (eg Norton, PC Tools)
old compression program (eg arj, pkzip)
old software, period.
Real-life Scenario
You are building new NT machines for users who are currently using Windows 95. Transferring long filenames is an issue. You can use LFNit! as a solution to backing up & transferring files over a network.
Simply run LFNit! in the affected directory BEFORE you use the old software (or run it on the entire drive at boot time), run the old program, and then run the batch file created by LFNit! to restore the long filenames. What could be simpler?
For example, if you use an old tape backup program to backup your system, it will not retain long filename information. With LFNit!,you just run it on the drive or directories being backed up, and then perform the backup (including the batch file created by LFNit!).
At restore time, just run the batch file created by LFNit!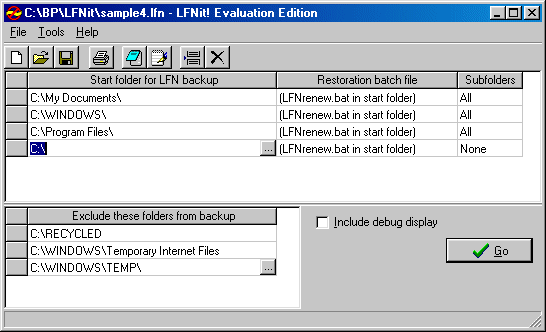 Features
32-bit GUI version for Windows 95/98/NT
Use it to backup long filenames before:

Backup (e.g. using any tape backup software)
Copy (e.g. using XTree, Norton Utilites, PC Tools)
Transfer (e.g. using LapLink)
Archive (eg using PkZip, Arj or other compression programs)

Multi-threaded so you can create restore files on multiples drives or directories simultaneously.
Can be driven entirely from the command line - very useful to create restore files when your computer starts by placing it in the StartUp folder.
Can include or exclude subdirectories.
Can limit the depth of directories traversed.
Totally portable - you don't even need LFNit! to restore the long filenames!
Does NOT use direct disk access, so it is much safer than other methods.
Compatable with FAT32.
Creates a batch file to effect the file and directory renaming.
Can be used for backup in case Windows 95 needs to be re-installed.
Small and very fast.
Progress indicator while it works.
Feedback
Never have I seen such a useful utility, it save(d) me a lot of time, work, restoration time, it's very easy to use and is a MUST HAVE prog !!
I just downloaded your utility, seems like a nice little program that could save lots of headaches in the event of a crash.
a very useful program!
I happened to come across your lfnbat program somewhere on the web, and think you've hit on a great progam for win'95 users.
I found out about your program in Windows95.com. I was desperately looking for something which turned out to be your program. It's great.
I downloaded a version of this program awhile back and found it to be very useful.
Customers
References available on request.
Advanced Systems Consultants - CA, US
Best Buy - MN, US
E Systems & Gauging - CA, US
M.L.F.C. Development - Ontario, CA
Martinsson Information System - SE
Otto Stock GmbH - D, DE
PMI - Ca., US
S & K Computers - AZ, US
Stan Lewis PTY LTD - Victoria, AU
Western Michigan University - MI, US
If you're looking for a product that lets old Windows 3.1 programs use long filenames (called Long File Names for Windows 3.1x Programs on Win 3.1x/95/98, we regret to inform you that the company has gone out of business. Their web site is here, and the company is no longer supporting the product.

Buy
Download